Reminder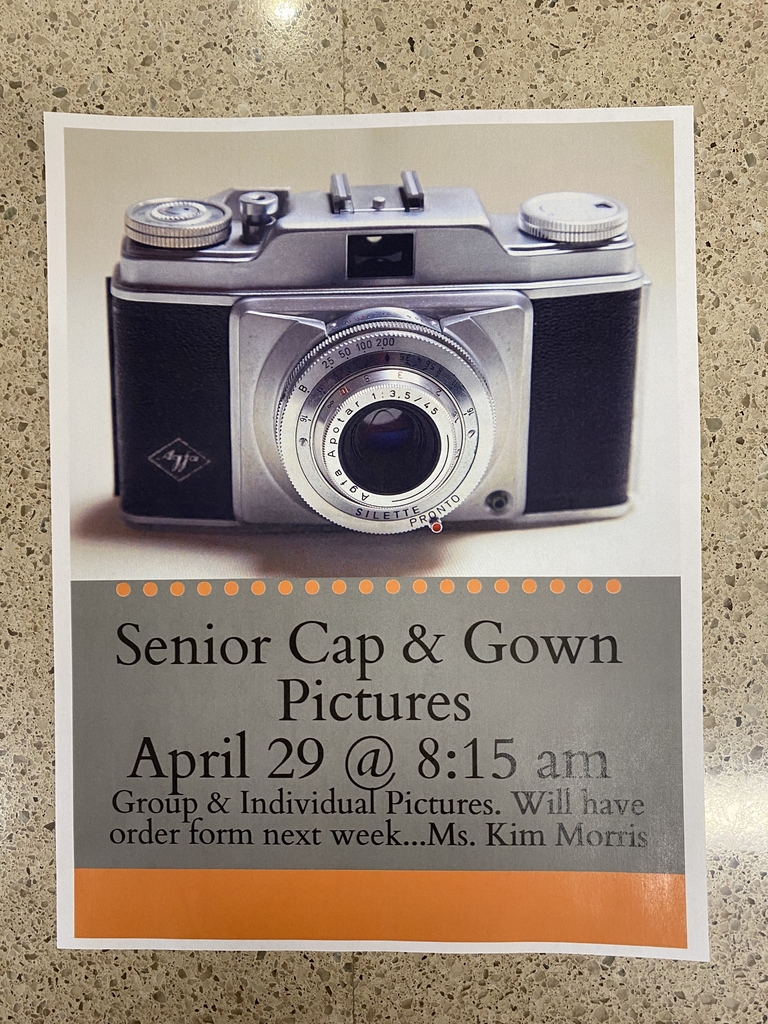 Elementary Fun Day T-Shirt Order forms will go home with PK-6th Grade students today! Please return the forms to the school no later than Tuesday, April 27, 2021.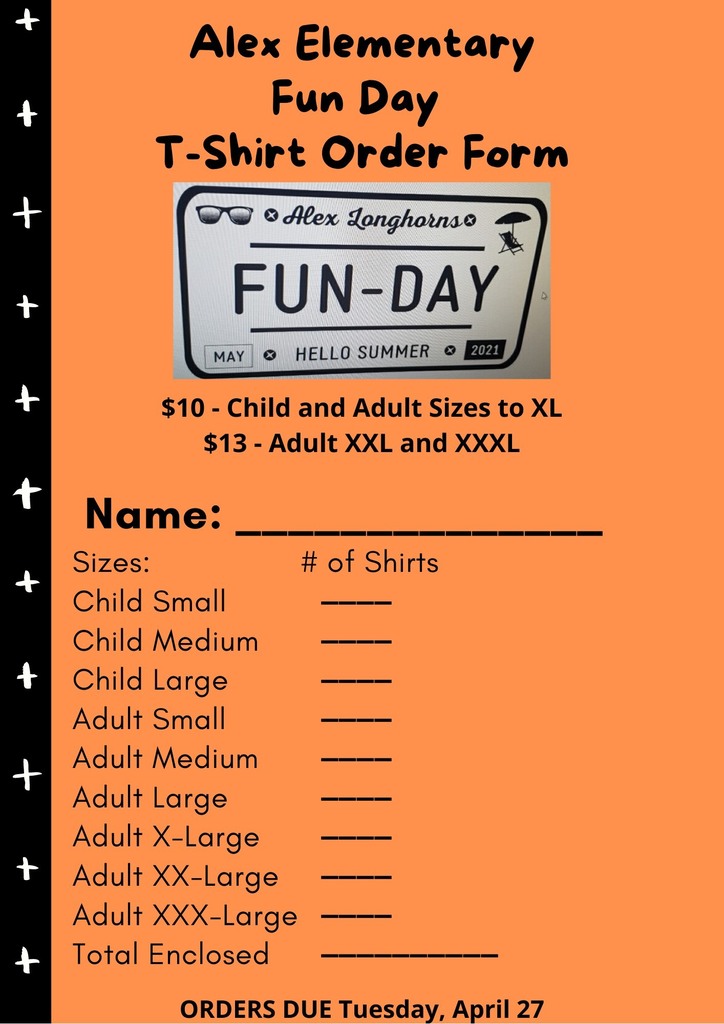 Reminder: after parent/school partnership night we will have freshman orientation at 6:00. Any 8th and/or 8th grade parent who wants to know what it takes to graduate, come see us.
Welcome your 2021-2022 Longhorn Cheer Squad! Jaidyn DeWitt, Delaney Chambers, Madison Byrne, Addison Walker, Sage Heldermon, Dani Wright, Jacie Anderson, Kayla Webb, Lorie Austin. *Not in picture: Keegan Seward, Haylee Reece, Cale Beckham Congratulations, ladies!

School/Parent Partnership Night: tonight is the last one for the school year. We hope to see you at 5:30 in the high school library. We will also have someone available as early as 4:30 and as late as 7:00 to help with enrollment for the 2021-2022 school year in case you have questions.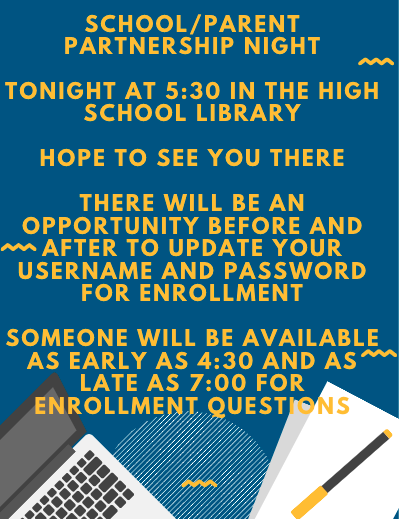 High school baseball tomorrow at Ft. Cobb: Alex will play Ninnekah @ 2:00, Ft. Cobb at 4:00. Due to expected bad weather for Friday, all district are going to be played tomorrow. Depending on wins/losses, Alex could also play a 6:00 & 8:00 game as well.

Beta Club is meeting today at lunch in the Hospitality Room. Come and eat some tacos with us while we discuss national convention!

Here is the link to a printable copy of the summer meal form that can be found on our website under documents. Copies can also be filled out at this weeks parent/school partnership meeting.
https://www.alex.k12.ok.us/browse/160894

Make plans to join us and celebrate your 9-12 grade student!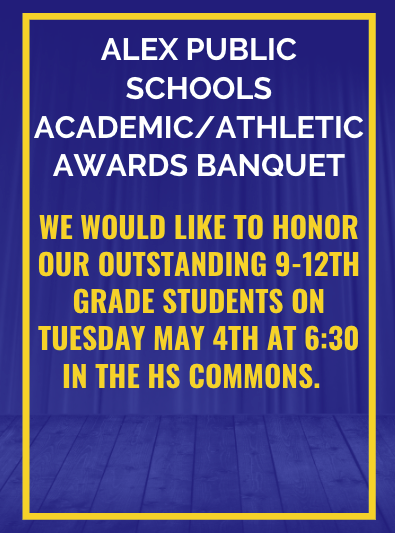 We are close to being ready to roll out pre-enrollment for 2021-2022! You will need a username and password (the same one you used last year will still work for this year). If you have forgotten your password you should be able to reset that at login. If you have forgotten your username, contact Amy Loggins at
aloggins@alex.k12.ok
. us or 405-785-2265 ext 233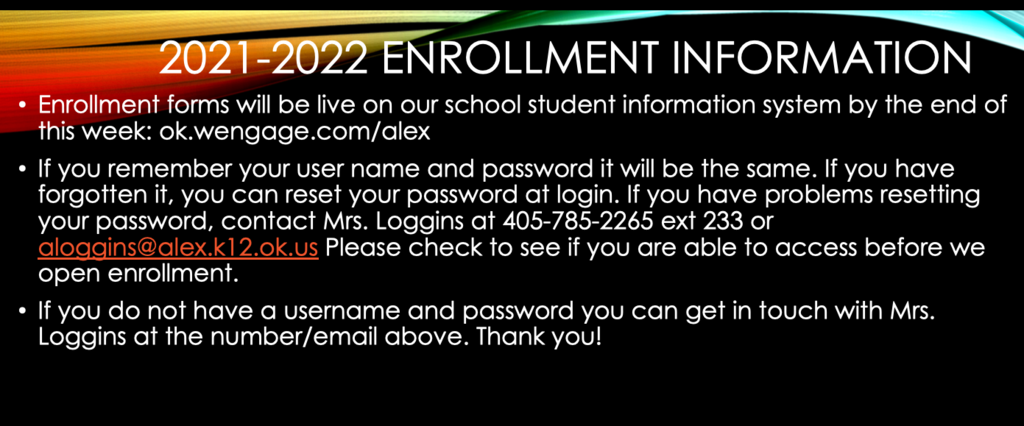 Reminder: Baseball Senior Night tonight 6:00pm at APS HS baseball field. Recognition of Seniors only, no game!!
The high school baseball game against Wayne will be at Alex today. 4:30 start

If you did not get your summer meal letter returned to the school on Friday, you can still turn it in this week. Please have letters turned in to teachers by Wednesday. If you have questions you can email or call Mrs. Loggins at 405-785-2265 ext 233 or
aloggins@alex.k12.ok.us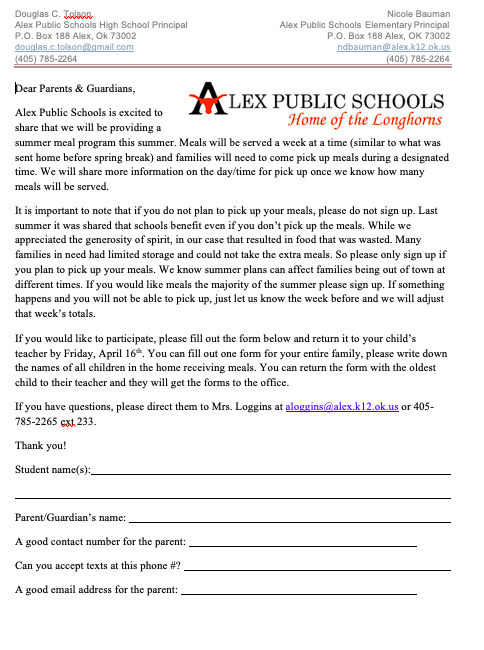 Attention to students signed up to go to the After Prom party in OKC-To be able to attend, it's required to ride the school bus. The bus will leave the front of the school at 11:00 PM and will return around 5 AM. We expect positive behavior that will represent Alex Public Schools well. We have provided a safe fun place for our students and we can't wait for y'all to make great memories.

Our last parent/school partnership night will be this Wednesday. We appreciate all of the participation and growth at the meet-ups. We hope to have a big turn-out to help wrap up our year. At 6pm, there will be time to meet up with 8th grade parents to discuss freshman year and HS graduation requirements. Hope to see you there.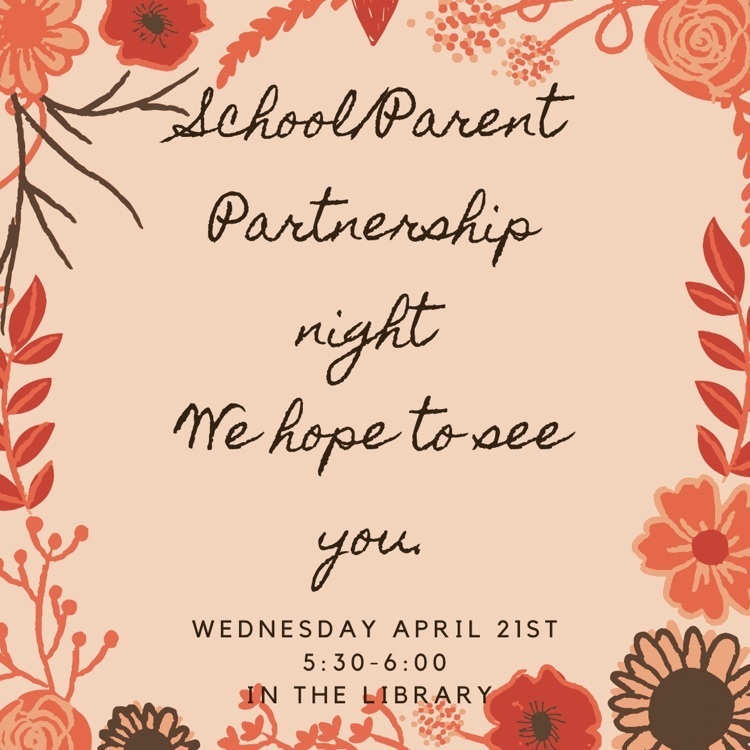 PK Enrollment for the 2021-2022 School Year will be held on Tuesday, April 20th from 4-6 p.m. in the Elementary Stem Room. Please bring proof of residency (major utility bill with your name and address), official birth certificate, shot record, social security card, and CDIB card if applicable. Students who are 4 years old on or before September 1, 2021 are eligible to be enrolled.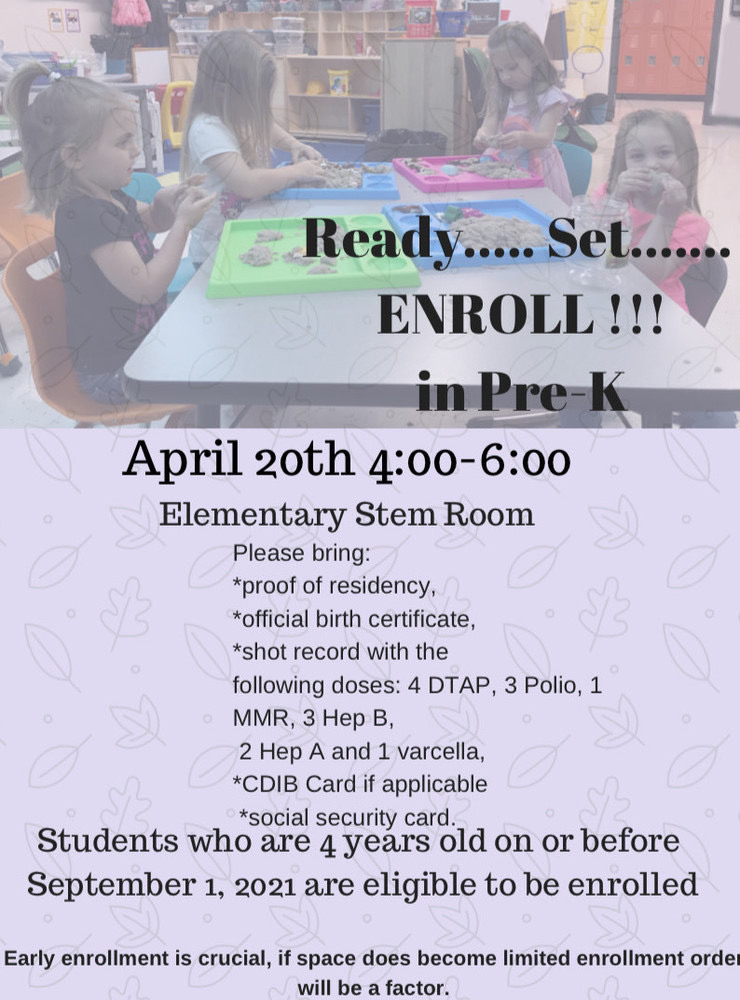 Tuesday, April 20th, we would like to honor and recognize our senior baseball players. Please join us at 6:00 PM at the baseball field. No game that night.

Alex Public Schools will be offering summer meals. A letter has been sent home with your student or click on the image to print out a copy of the letter. Please return the letters to your child's teacher or to the office by Friday. If you have questions, please email or call Mrs. Loggins at
aloggins@alex.k12.ok.us
or 405-785-2265 ext. 233

Physical science students got some time in the lab to learn about specific heat this week.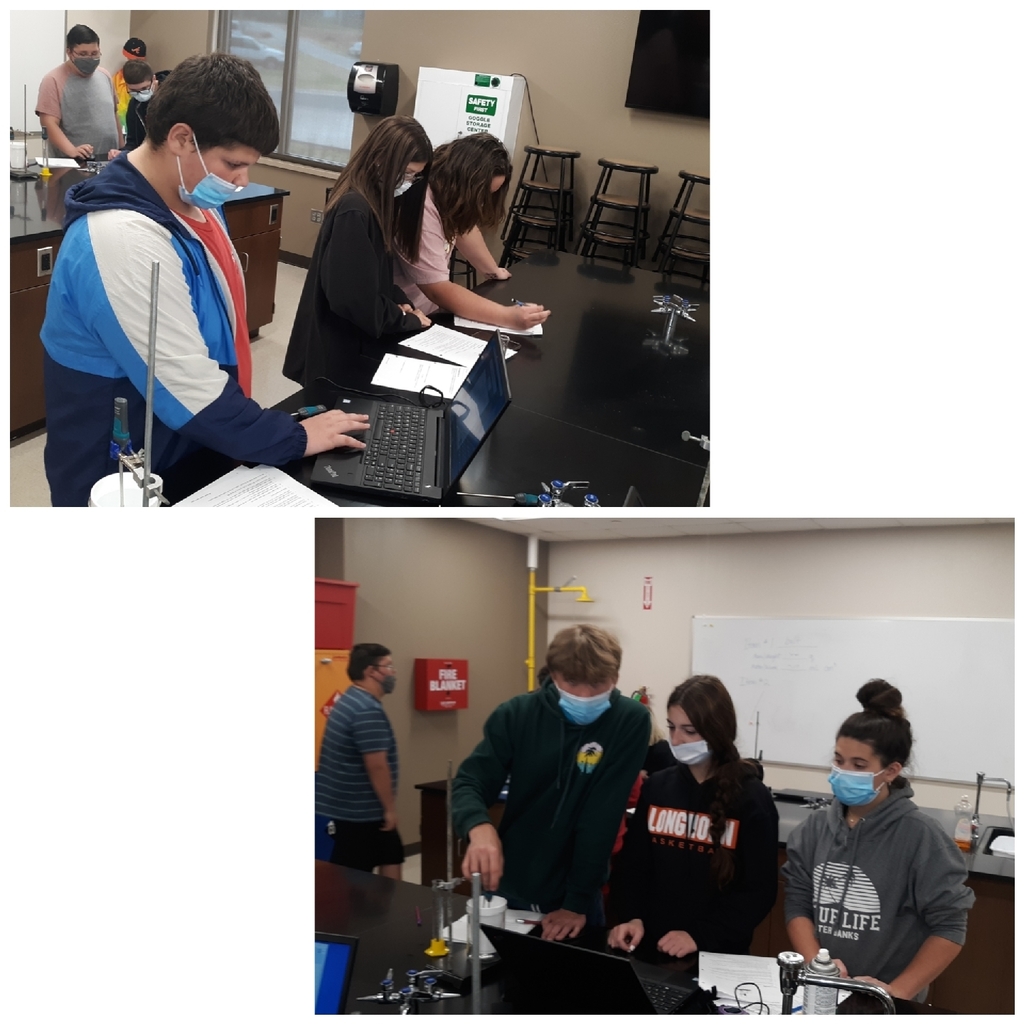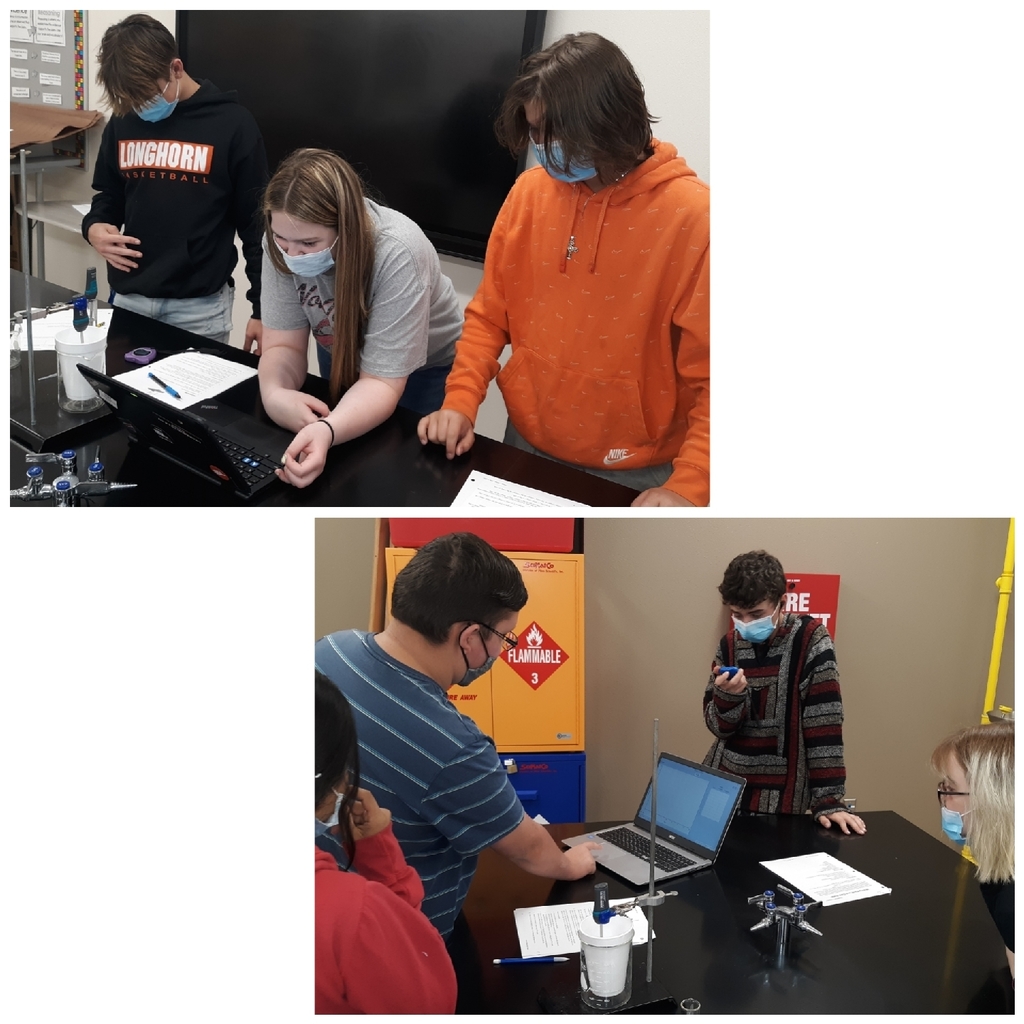 Prom Photos.......REMINDER IF YOU'VE PAID FOR ACCESS!