If your child is signed up for summer program and you are interested in someone from the school reaching out to you about possible bus stops; please fill out the attached form ASAP if you have not already.
https://forms.gle/prbvJ58KfFX96B2N6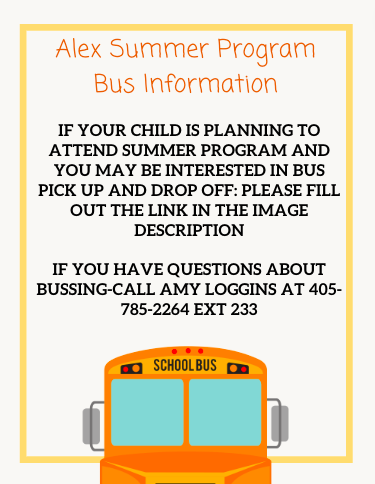 *TSA Members* Reminder, all color run forms for donors and runners need to be submitted my Monday 16th. You can turn into the office or in the STEM building. Please try your hardest to sign up donors and runners, we want our run to be a success! We will be meeting next Thursday and Friday to get ready for the run and Saturday ALL members attending nationals need to be at the school to help set up. *TSA Parents* Please be on the lookout for an email from national TSA. I need you to approve their online account before I can register them. Emails will be sent to the email the school has on file for you.
Softball camp!!! There is still time to get signed up, 1st through 6th grade girls! Contact Coach Black to get signed up 405-227-1462 or
[email protected]

Football Spring Dates 2022!! Spring Practice Dates: May 12th @ 6:00p.m., May 13 &14 @ 9:00a.m. May 19th @ 6:00p.m., May 20 & 21 @ 9:00a.m. May 23rd @ 9:00a.m. Team Camp Dates: May 24-25 @ Laverne *Leave @ 4:00p.m. on May 23rd. Will stop in Woodward to eat Please show your parents these dates. SPRING PRACTICE IS VITAL FOR OUR SUCCESS THIS SEASON. High School Only- Incoming Freshman through Seniors!! If you have any questions please contact Coach Otey. 405-351-0810

Summer Pride Dates!! Boys lift at 8 am Girls lift at 9 am May 16-20 May 23-27 May 30-31 June 1-3 June 6-10 June 13-17 June 20-24 June 27-30 July 1 July 2-10 is Dead Week. No athletes allowed on campus. July 11-15 July 18-22 July 25-29 Total Lifts: 50 5th-12th are allowed to participate in workouts. For any questions, please contact Coach Otey at 405-351-0810.

Parent Meeting for Football We are hosting a parent meeting Friday, May 13, 2022 at 6 pm in the Commons. This is for all football athletes 4th through 12th grade. 4th-6th football will be coached by the school staff this year. This is a great opportunity to see the scheduling, rules, and expectations of our program. Thank you, Football Coaching Staff
Congratulations to Coach Fulks and the girls track team for making state!!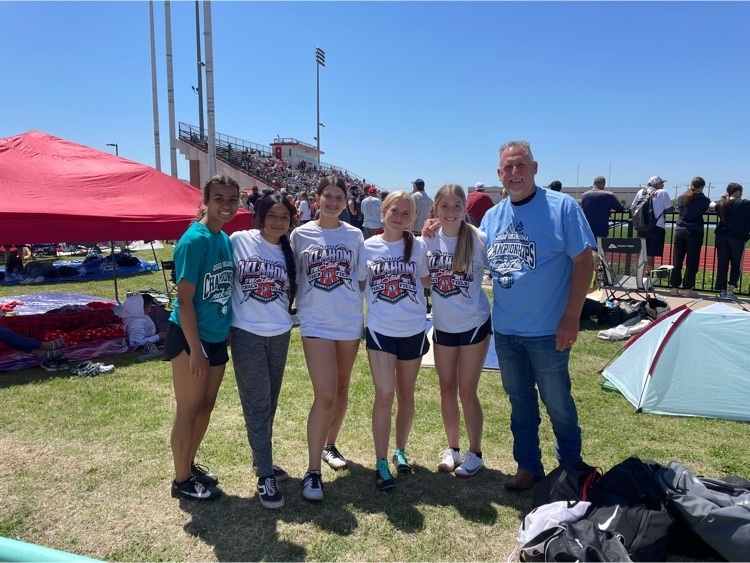 HAPPY SUMMER!! If your child has filled out a form to attend summer program we will have some bussing options this year. We will have pick up locations such as Naples Store, Bradley Park, etc... If you think your child attending summer program may take advantage of these bus stops, please click on the following link and fill out the form:
https://forms.gle/tACceaTgt3ZfpsKV6
Contact Amy Loggins with any questions at 405-785-2264 ext 233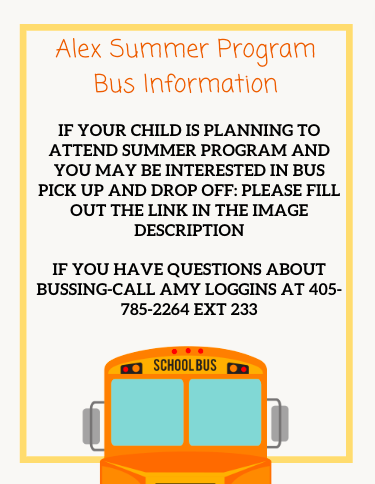 We need all Student Chromebook's/iPads with chargers turned in by end of day today. Unless you have made arrangements with Mrs. Baker. Also Library books need to be turned in. If items are not returned you will be receiving a bill in next few weeks in the mail. Thank you.

Good morning Alex elementary families- This is Mr. Lewis. I want to invite your students to an enriching program that I instruct at each summer. It is the Chickasha Area Arts Council's Artscope Camp. It is a 2 week day camp for 8-12 year olds to be able to learn skills and have fun in any arts area like music, dance, theater, and visual arts. The dates this year are June 6-17. The registration is $195 per student to cover all costs, but there may be scholarships still available for those who need them. If you would like to learn more, feel free to email me any questions at
[email protected]
or you can find any information you need here on the website.
https://www.chickashaarts.org/artscope-2022.html?fbclid=IwAR1uFqJz5EDyXUGsBO7sCIsTxXR1CdzrdaiXywm64-RHYvina_hCIie_3VQ
I hope to see some of my awesome students there! Thank you!

5th-8th grade academic awards are today at 10:00 AM in the HS gym.

We would like to recognize 4 students that did not get recognized at the banquet for Superintendent's Academic Letter. This is for maintaining exemplary GPA. Congratulations to Kaitlyn Goleman, Baylan Byrd, Konner Shebester, and Carma Tucker.

Reminder from Alex Public Schools: Friday (May 6th) we WILL be in school, but it is an early release day. Elementary car line will start at 2:10; MS/HS will be dismissed at 2:20 to load the buses. Buses will leave the high school at 2:25 to pick up the elementary students. Graduation is May 6th at 8:00 p.m. We hope you have a great SUMMER!

Alex 4-H would like to thank everyone who participated in the Coin War to raise money for the Oklahoma Children's Hospital Foundation! Congratulations to the 2nd, 6th, and 10th grade classes!

Reminder from Alex Public Schools: Friday (May 6th) is an early release day. Elementary car line will start at 2:10; MS/HS will be dismissed at 2:20 to load the buses. Buses will leave the high school at 2:25 to pick up the elementary students. We hope you have a great SUMMER!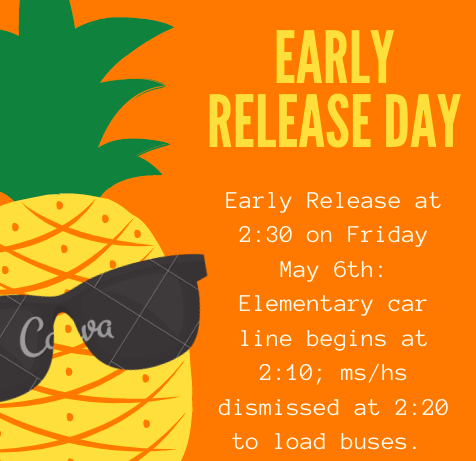 Elementary Awards are tomorrow in the Elementary Gym. The itinerary is as follows: PK - 9:00 a.m. K - 9:30 a.m. 1st - 10:00 a.m. 2nd - 10:30 a.m. 3rd - 11:00 a.m. 4th - 11:30 a.m.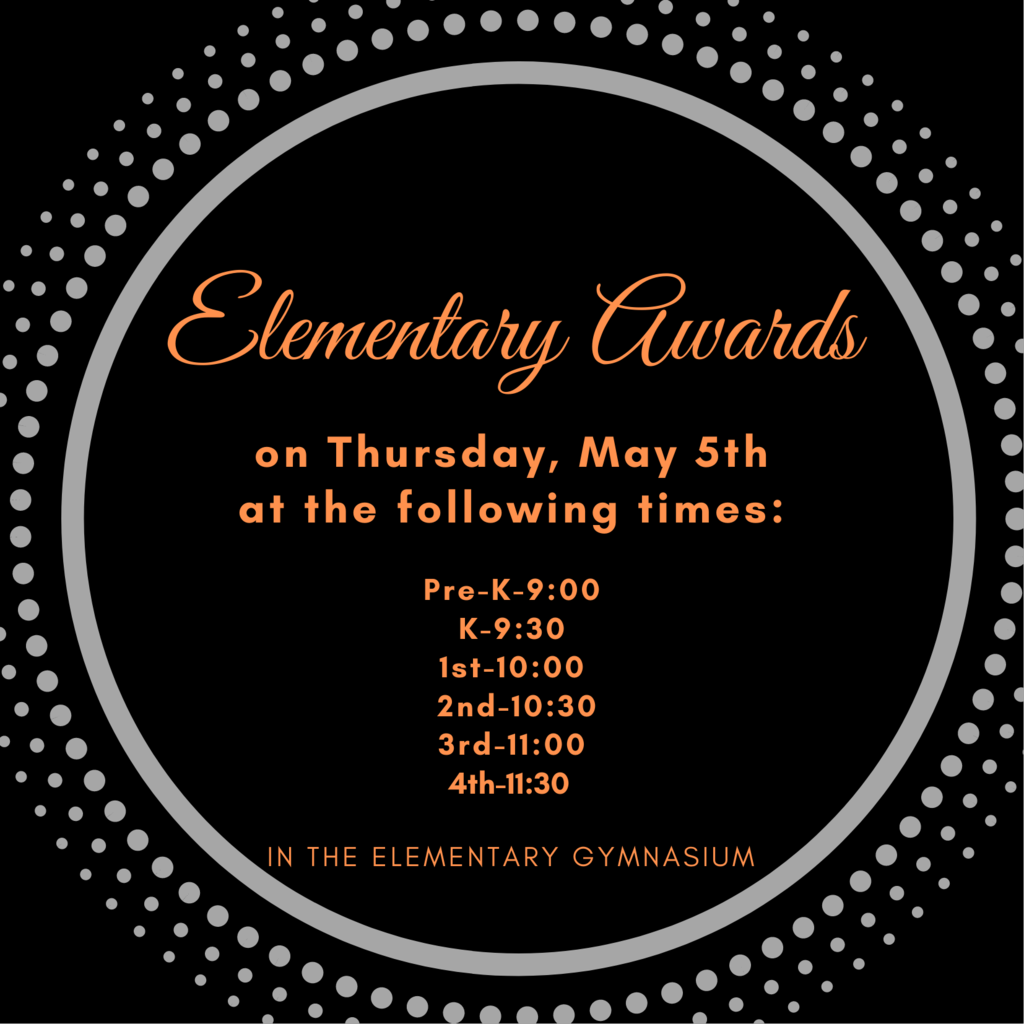 The career tech graduation has been postponed to May 18th due to possibility of severe weather.

Beta Club is meeting in Ms. Tucker's classroom now.
Congratulations and good luck to Keegan, Estaphany, Clara Jo, Carma and Kaitlyn. These ladies qualified for the State Track Meet in the 4 x100 Relay last Saturday. They will be competing 12:00 Friday at Western Heights. Good Luck Lady Longhorns!!!