Summer Food Program; all families should be able to qualify regardless of economic status due to covid relief. Be sure to take time to apply for assistance to provide food for your family this summer. To apply go to Chickasaw.net/summerEBT or call 1-580-272-1178 or 1-844-256-3467. See attached flyer for more details, but remember economic status should not be an issue this year due to covid relief.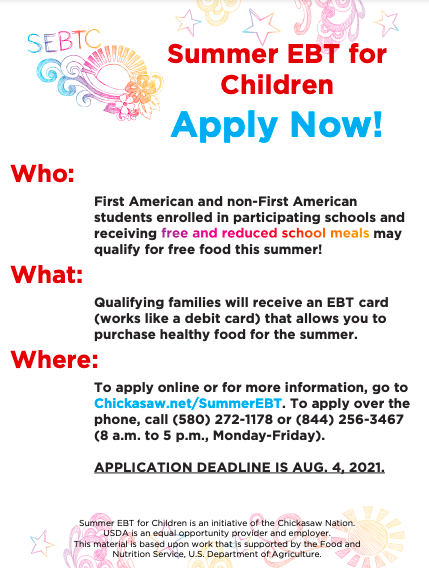 School will release early tomorrow. Car line starts at 2:10 and buses run at 2:30.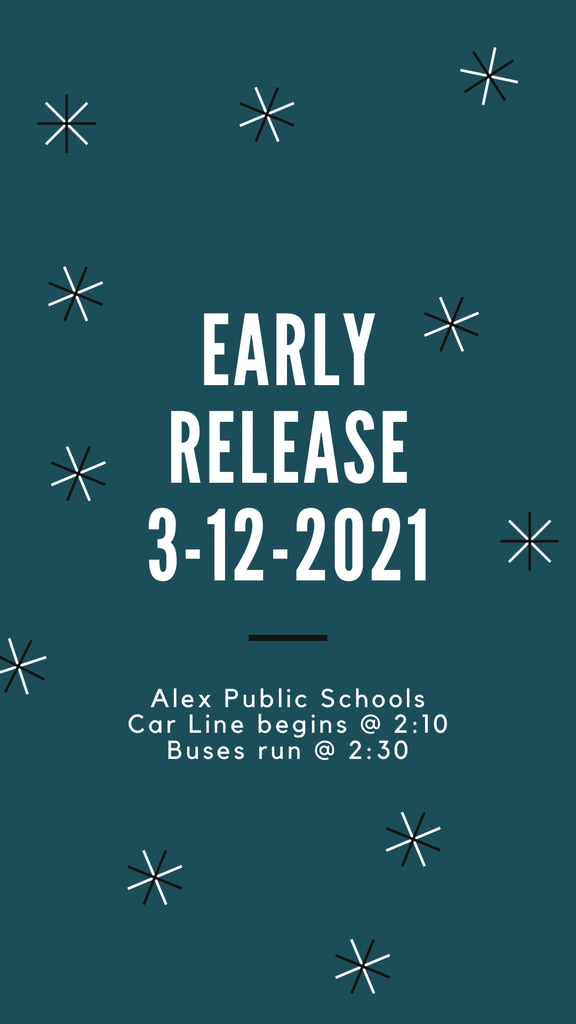 Please make plans to attend our graduation on Friday, May 7th at 8 PM. The date change is due to OSSAA moving the state track meet to May 8th, causing us to have to move our graduation to Friday evening. We wanted to give everyone plenty of time to plan for the change. Please be aware that May 7th will be an early release day. Buses will run at 2:30. Reminder: buses will also run at 2:30 on Friday March 12th. Thank you and have a great evening.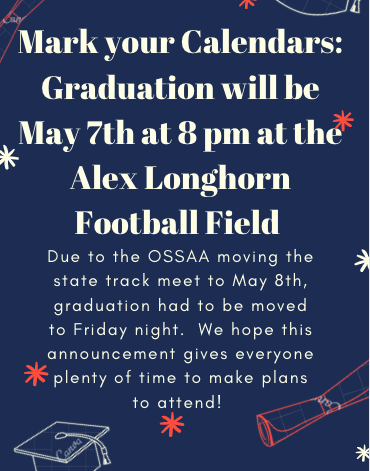 All Juniors will take an ACT test on April 7th that is paid for by the state. If any juniors would like to take another one on April 21st (cost $46), please email Mrs. Byrne by tomorrow at noon.

DON'T FORGET Retakes for new and absent students and Who's Who for Chosen Seniors will be March 24, 2021.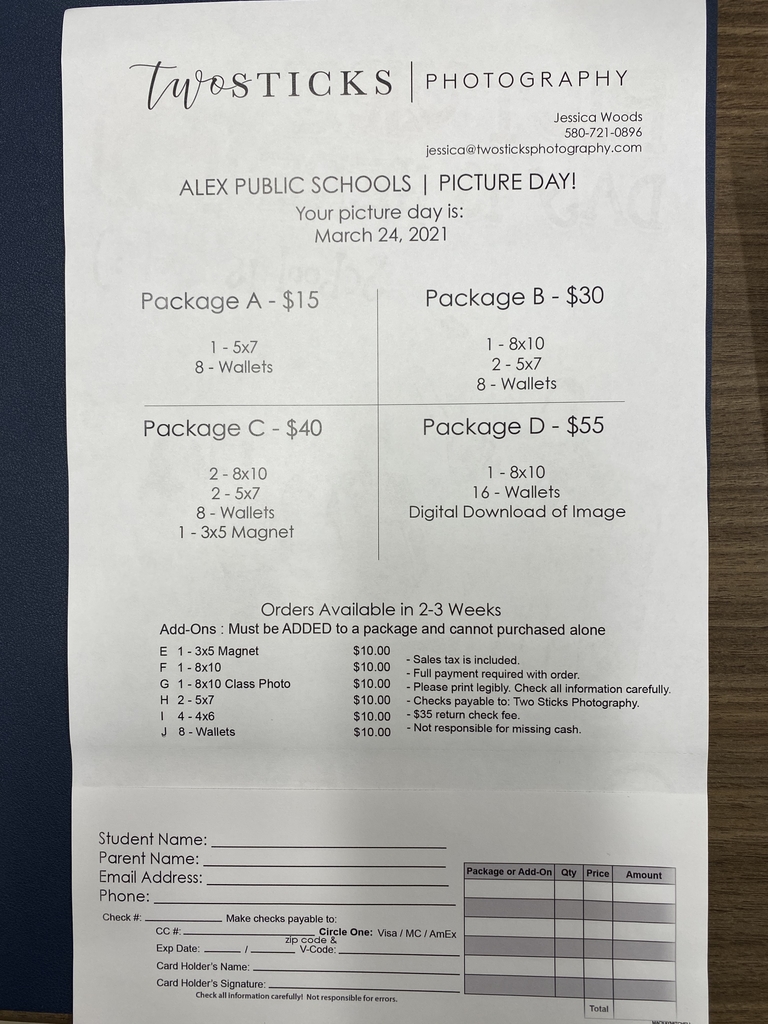 Sophomores interested in taking the ACT on April 21st, please email Mrs. Byrne today.

Any junior or senior male wanting to attend Boys State this year, please contact Mrs. Byrne for details. Info will be sent via email as well.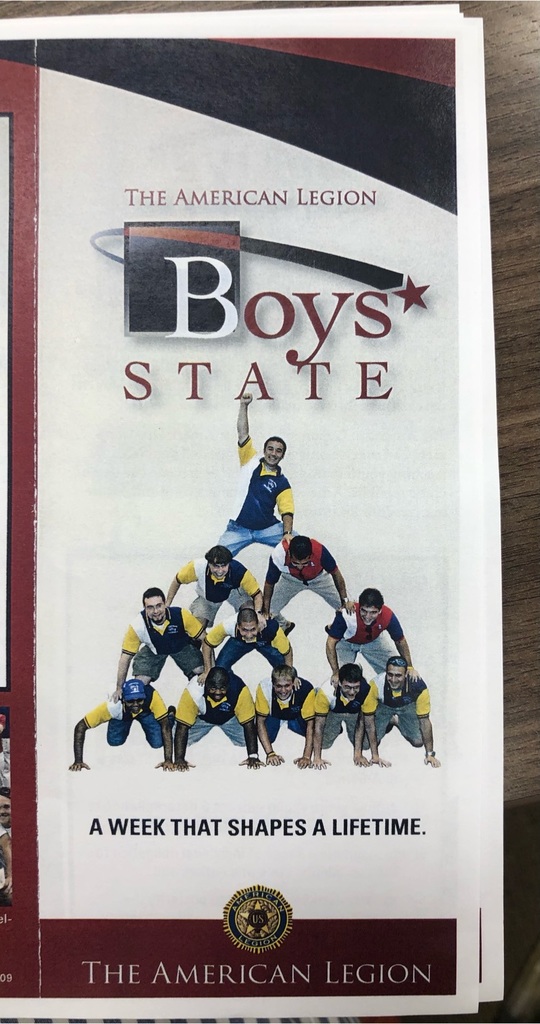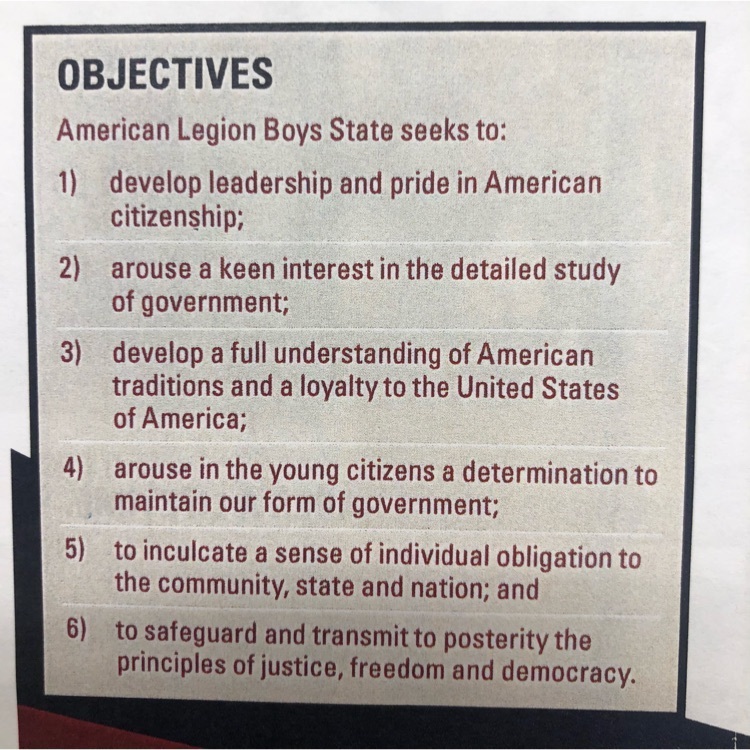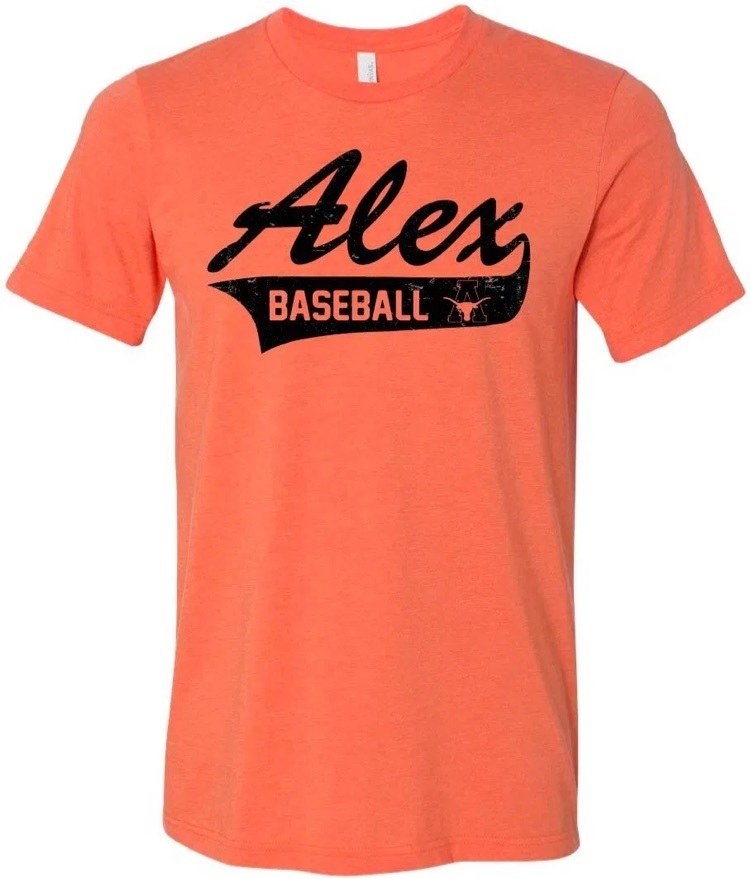 Sophomores interested in taking the ACT on April 21st at Alex, please email Mrs. Byrne by Thursday at noon. The cost will be $55 and will need to be paid by April 7th.
Kona Ice will be at school tomorrow selling snow cones for the Jr. Class. Prices will range from $2.00-$5.00. All proceeds benefit after prom.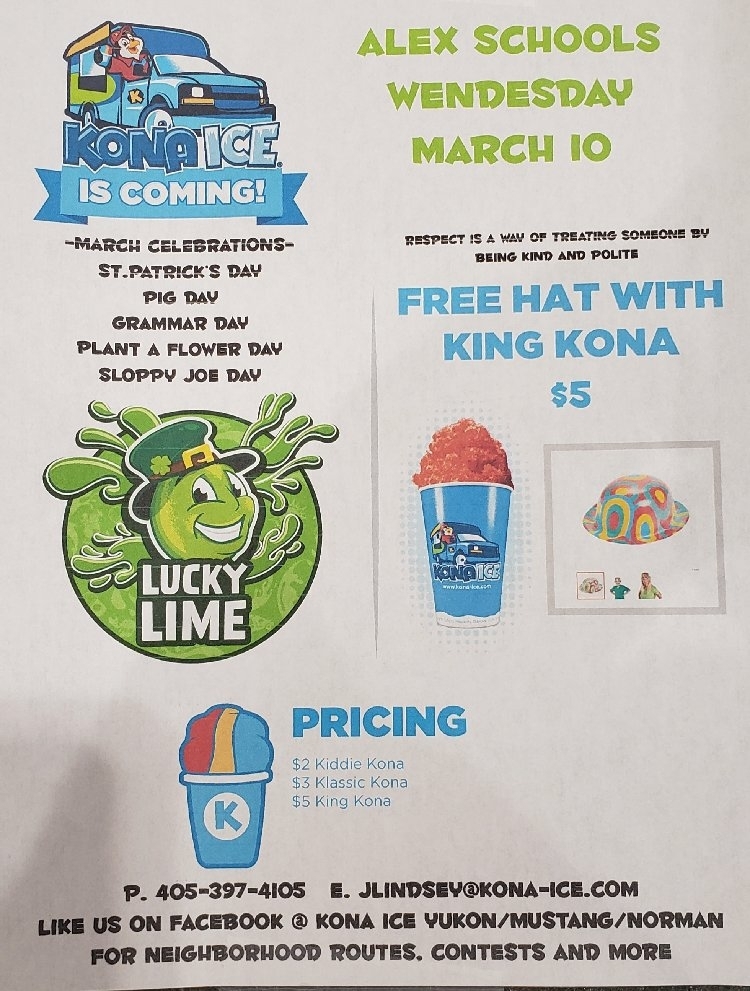 Sophomores or juniors interested in concurrent enrollment (college credit while in HS) next year, please join me on March 23rd at 6:30 PM. If you want to see if you qualify, check with Mrs. Byrne. I will have paperwork available to fill out.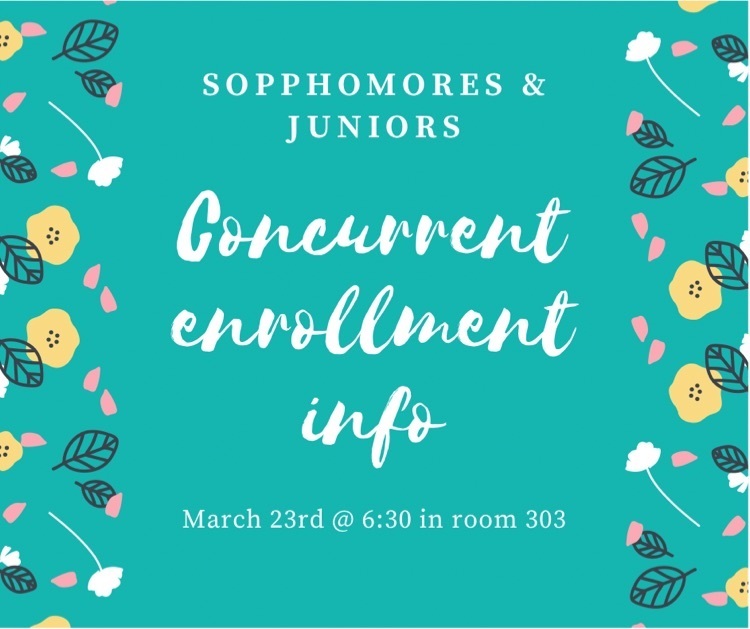 Baseball today: We will play one HS game only AT Verden at 4:30. There will be no jh today.

Senior Yearbook aD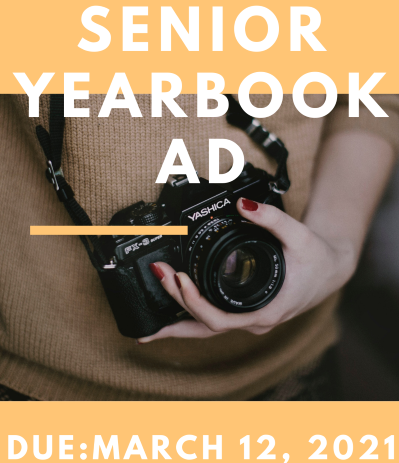 JH Track Meet scheduled for tomorrow at Velma has been cancelled for Alex JH students.

Seniors are scheduled for CPR class on March 31st. All seniors will report to AHS at 9:00 am in the library.

Our next school/Parent Partnership night is Tuesday March 23rd from 5:45-6:15 in the HS library. The main topic of discussion will be testing and finishing the year with success. We will also have some teacher spotlights. We look forward to seeing you.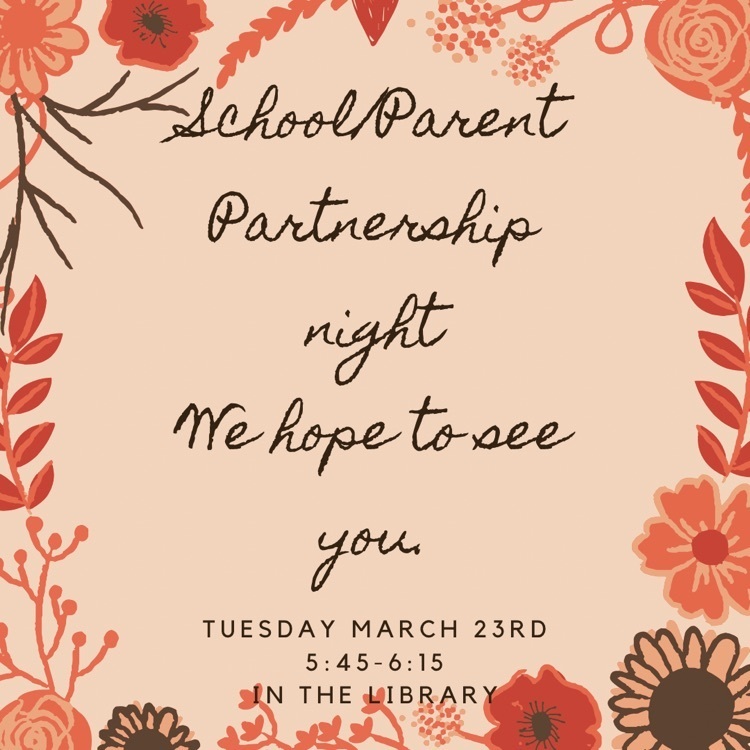 It's time to sign up for prom!! Please sign your name and your date's name. The sign up sheet is outside of the office. If you are taking someone from another school, they will need to get a permission slip signed.
High school baseball today: Two 5 inning games at Elmore City with Elmore City and Maysville, starting at 4:00.

Little League Bake Sale today in front of Chisholm Corner and First National Bank!

Our Mystery Guest Reader today was Mrs. Allen! We also got a visit from Cat in the Hat, and they looked adorable in their Lorax Day mustaches!